Weddings
at Cholderton Rare Breeds Farm
Your unique Wedding Venue near Salisbury, Wiltshire...
Looking for your ideal wedding venue and wedding ceremony in Wiltshire? Interested in something new and different for your wedding? We can now offer you our beautiful farm wedding venue near Salisbury! Cholderton Charlie's Farm can host your entire Wedding Day, from your Wedding Ceremony, as we are now a licensed venue with Wiltshire Council, to the Wedding Reception. Let us take the strain of organising, and leave it to our team of experts to accommodate you and your guests!
Enjoy a unique and stunning woodland, barn wedding, rustic wedding or vineyard wedding with us…
We welcome all bookings for every type of events and functions; including weddings, same-sex weddings, wedding anniversary or anniversary parties, vow renewals, blessing, naming ceremonies, christening parties, baby showers, bridal showers, military function parties, charity events and so much more!
We have already hosted so many special occasions and nothing is too big or too small, and we will do all we can to make sure your event is suited to you perfectly!
Wedding catering requirements are designed specifically for each special day; from buffet meals, BBQs and Hog Roasts to formal sit-down dining.
We can also accommodate people in our 70 bed 4* Hostel, from as little as £1200 for a sole occupancy booking, that's for all 70 beds! This means that people can enjoy an overnight stay, relaxed in a stunning setting, with our great selection of drinks from our bar.
Just call us on (01980) 629438 or email events@choldertoncharliesfarm.com to know more about our wedding packages or ask for a wedding quote. We will be happy to answer any question you might have! Feel free to pop in and have a look around.
Click the image below to view a little previous of Leah and Robert's wedding in 2017...and scroll down to see some more wedding photos and other events we've hosted!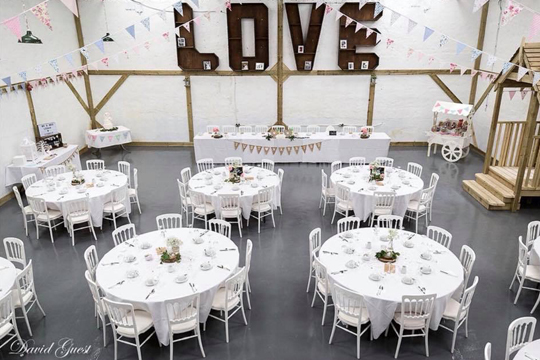 Gallery
Sign up to our newsletter